In the last decade, the automotive industry in Brazil experienced increased sales at an average of 10% per year while the economy grew 4%. This great success attracted loads of investments between 2008 and 2012 for new plants and expansion of existing units. However, the Brazilian automotive industry is now facing strong headwinds resulting from the poor performance of the Brazilian 2014 economy coupled with the collapse of exports to Argentina.
"Brazil has gone in reverse," said Matthias Wissmann, President of German Association of the Automotive Industry (VDA). "The high revenues we have seen to date in important markets will ease off somewhat." Vehicle production fell 15.3% in 2014 compared to the previous year, reaching the lowest level since 2009 according to data released by the Brazilian Association of Manufacturers (ANFAVEA).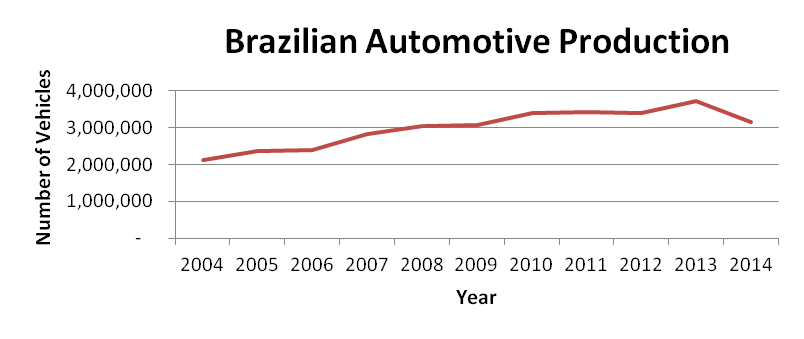 Industry demand is slowing just as new capacity begins to come online, increasing supply while demand remains on a downward trend. The industry estimates it will soon experience approximately 40% idle operation, almost double that of when the market was booming. According to data from ANFAVEA, 12,400 automotive workers were laid off in 2014. General Motors announced a cut off of exports to Argentina and forecasts the same number of vehicles manufactured in 2014 for 2015.
In contrast to declines in Brazil (and Argentina), car sales will expand globally by another 2% this year to 76.4 million vehicles according to the 2015 forecast by VDA. China expects a rise of 6% to 19M new cars and US sales will increase by 2% to 16.4M vehicles. At least in this industry, things are turning to the norm  US and China lead the pack.
What about Brazil's automotive industry future? After growth of 263% in vehicle sales over the last 12 years, it is natural the pace would slow down. Brazil's automotive industry needs to explore new markets to compensate for its sluggish domestic market and the big economic crash in Argentina, which had been responsible for 80% of exports.
We see Colombia as the best market opportunity for Brazil's automotive industry. Colombia boasts the fourth-largest automotive market in Latin America after Brazil, Mexico, and Argentina. General Motors, Renault, and Mazda manufacture in Colombia but their combined capacity can meet only 35% of domestic demand; the balance must be imported. Will Colombia absorb excess Brazilian automotive capacity? Will the 2016 Olympics cause resurgence in the Brazilian economy? The future is uncertain and unfortunately Brazil has always been a country of the future.
Janaina Gilsoul, Geo Strategy Partners Consultant