Atlanta, GEORGIA – October 23, 2013 – Geo Strategy Partners, a middle-market strategic consulting firm is pleased to announce that Control Southern Inc., a leading provider of process control products and services, has acquired MacAljon Valve Services, a VR-certified safety valve repair center in Savannah.
Geo Strategy Partners identified valve repair centers capable of supporting Control Southern's strategic expansion into non-control valve mechanical services, and managed the acquisition process on behalf of Control Southern.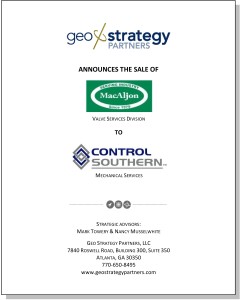 MacAljon Valve Services has provided testing, repair, certification and assembly of non-control valves, including safety relief valves, in its Savannah shop since 2008. Control Southern Mechanical Services will continue these offerings, including 24/7/365 shop and field services and manual and VR safety relief valve certifications. All MacAljon Valve Services shop personnel will be retained by Control Southern Mechanical Services.
"Adding a high quality, full service valve repair shop in Savannah now provides our local customers with a fully integrated valve asset management solution," said Doug Turner, president of Control Southern. "Along with our valve manufacturing partners, Control Southern's team can now supply every valve product and valve repair service required for a plant or mill, reducing their life cycle costs while increasing reliability and performance. Combined with our process automation engineering expertise, our customers will achieve a lower cost of operation."
"We very much appreciate the role Geo Strategy Partners played as our strategic advisors in this transaction," volunteered Joe Cain, VP Engineering and Service for Control Southern. "We would never have known MacAljon was considering divesting this business and they would not have known Control Southern was in the market without the market analysis and quiet approach by Geo Strategy Partners. We also benefited from a smooth and amicable negotiation and closing process which paved the way for a seamless transition into the new business."
About Control Southern Inc
Headquartered in Suwanee, Georgia, Control Southern has served as a complete process control product and service provider for process industries in the Southeast for more than 58 years. Its customer base spans multiple industries, including pulp and paper, power, chemical, natural gas, textiles, life sciences, and food and beverage. Control Southern's full range of offerings includes both control and non-control valves and repair, actuators, regulators, automation systems, project engineering, and asset management.
About MacAljon
MacAljon is an industrial product and service provider for the Southeast based in Savannah, Georgia. The company's offerings include engineering and design services, fabrication and machining, installation, startup and maintenance. MacAljon's affiliated companies are K-Machine Industrial Services, Industrial Conveyor Belt Systems, Custom Quality Scaffolding, MacAljon Engineering, and Pump Components.
About Geo Strategy Partners
Geo Strategy Partners is a full-service business-to-business & industrial market research and strategy firm providing strategic middle market M&A advisory services. With offices in Atlanta, Hamburg, and Beijing, Geo Strategy Partners is known as the "Go-to-Firm for Go-to-Market Strategy."
For more information, please contact:
Mark Towery
Managing Director
Geo Strategy Partners
770-650-8495
mt@geostrategypartners.com
www.geostrategypartners.com